Wilys Warriors - Episode 2 -Lord of the Rings



by Starnik



| | |
| --- | --- |
| Starnik as Quick Man | Tails28 as Crash Man |
| Ben as Heat Man | Johnny as Flash Man |
| ShadowBlade as Bubble Man | Life Virus as Metal Man |
| Pharon as Air Man | Koala as Wood Man |

Narrarator: We see our heroes on another relaxing day...



Starnik: HA! I schooled you at Smash Bros. AGAIN, Heat Man!



Ben: *Rolling eyes* Maybe if you didn't button mash so fast that your controller melts, the rest of us could stand a chance...



Starnik: *Standing on top of the couch, proclaiming his victory to the other members* I guess Heat Man isn't so... "hot" when it comes to video games? I guess you could say I'm on... "fire"?



Ben: You know what? That doesn't sound so bad. *Atomic Fires Starnik into a wall*



Starnik: *Slightly smoking* Ooww... grr, that's it! Prepare for a Quick boomerang... up yer can!



Crash Man: Aw come on guys... We just fixed up the place after your last battle leveled it...



Starnik: Oh yeah... say, did anyone ever find Flash Man?



Shadowblade: *Popping down from the ceiling* Still looking!



Ben: You know, as an afterthought, we really shouldn't have fought next to that propane tank...



Air Man: *Coming in with a bucket of ashes* Well gee, you think? I'm STILL dusting up Wood man's left arm!



Wood Man: *stumbling in, burnt, and missing his left arm* Mummy, I dun wanna ride the roller coaster no more...



Air Man: Sigh...



Crash Man: Yeah, well lets just try to keep the mindless violence to a minimum, okay...?



Starnik: *under his breath* Said the man with missiles for hands...



Pointy: *Bursting into the room* Hey guys! I found Flash Man!



Ben: Eh? Where did he land?



Starnik: Do we need to bring a mop and a bucket?



Pointy: You'll never believe where I found him...



Crash Man: Well? Spill it already! Where is he?



Pointy: Maybe I should show you...

*Later, at a Strip Bar*



Starnik: Uh... what exactly were you doing here, Pointy?



Pointy: Er... scientific research!



Ben: Riiiiiight...



Pointy: Just look, okay?! *points to Flash Man, who's staring hypnotically at one of the strippers*



Crash Man: Well this is just great... *rolls eyes* I guess I'll go get him... *walks over Flash Man* Yo Flash, it's time to go- eh? *Tries to tug on Flash Man, but he continues to just sit there, transfixed* Uh... Flash? Wakey Wakey! *Waves his hand-er, missiles in front of Flash Man, trying to wake him up* What is so great abou- *Looks upwards, and immediately sits down, also transfixed*



Starnik: What... just happened?



Ben: Well this is juuuuust great. Now we have to drag both of those two out of here...



Wood Man: Don't worry, this sounds like a job for...




Wood and Air, together: THE MARSUPIAL BROTHERS!



Shadowblade: Oh brother...

*Wood Man and Air Man leap forward, try to move Crash and Flash, and then sit down and begin staring hypnotically at the Stripper*



Starnik: You know what? I've got a bad feeling about this...



Heat Man: I don't get it... whenever they get close to that stripper, they go all hypnotic...



Shadowblade: Maybe we should get out of here, and come back with a tank... *Starts edging towards the door*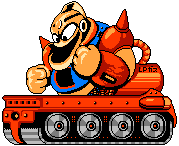 Gutsdozer: *Rolling in front of Shadowblade, wearing a bouncer suit* Not so fast!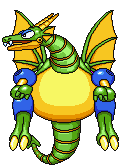 Dragon: *Dressed as a Bartender* Hah! It was only a matter of a time before you fell into our trap!

*Suddenly, the image of the stripper melts to reveal he was...*



Alien Wily: I have you now, Wily's Warriors!



Starnik: *sweatdrops* ...uh, why are you still wearing tassels?



Alien Wily: They aren't tassels! They are the Mind Control Devices and Holographic Generators!



Shadowblade: Sure they are...



Alien Wily: FOOLS! Prepare for your doom! *fires out a blast of energy*



Ben: Let's see your blast get through my wall of Fla-hey! *Is picked up by Gutsdozer*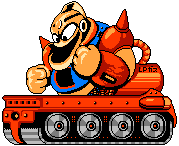 Gutsdozer: KKkk-rush Wily's Warriors! *throws Ben into one of Alien Wily's mind control blasts*



Pointy: Well let's see how you deal with my Metal Blades, Alien Wily! *prepares to throw*



Alien Wily: Fool! Your attacks mean nothing to me! *hits Pointy with another mind control blast*



Shadowblade: *sweatdrops* Well... now it's two against three...



Starnik: Eh heh... wow, this would be a good time for a mysterious ally to show up and save us!

*crickets chirp*



Starnik: Dang. I really thought that would work... Oh well, suck on this! QUICK BOOMERANG BARRAGE! *fires off thousands of small quick boomerangs at the three villains*

*Quick boomerangs are deflected by Gutsdozer, who uses his huge hands to block them*



Shadowblade: Well what now?



Starnik: Err....



Alien Wily: Enough! Your foolish resistance ends now! *Blasts Starnik with mind control rays*



Shadowblade: ...Oh, for the love of... *Dives under the Gutsdozer* Ohhhhh-kay, let's see here, we have three huge, powerful villains who have managed to single-handedly take dow the other 7/8ths of our team... What do I have that can possibly get me out of this situation!

*Go go Gadget Flashback!*



Ben: ...Anyway, I just found these newest items! There called Mesmero rings....



Starnik: MORE rings? Yeesh, first you had flight rings, now these?



Crash Man: Yeah, it's not like I can wear those rings anyway... *Waves his arms* Wily gave me missiles for hands? Can you believe it? I mean, how the heck am I supposed to open doors...



Wood Man: Uh... I think you're just supposed to BLOW THEM UP.



Crash Man: ...oh.



Shadowblade: Can we PLEASE continue with what Ben was trying to tell us?



Ben: Right! Anyway, these Mesmero Rings allow you to send out hypnotic rays! One shot and they are completely under your control!



Pointy: ... Is that it?



Ben: *Looking slightly deflated* Well they also protect there users from hypnotic attacks...



Flash Man: Hey guys! Look over here, Pharon's fighting a hobo!



Starnik: Not AGAIN...

*End Flashback*



Shadowblade: Wow, what a convenient flashback! Those rings are what I need to get to save my fri- whoops! *Dodges one of Gutsdozer's massive fists*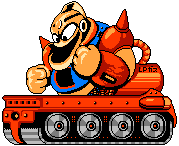 Gutsdozer: Kkkkrush puny Bubble Man! *Punches the ground again, barely missing Shadowblade*



Shadowblade: Yikes! Let's see how you deal with a few Lead Bubbles, Dozer! *fires several Lead Bubbles at Gutsdozers wheels, jamming them up*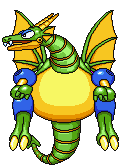 Dragon: You won't be able to escape that easily, cowardly bot! *Flaps his massive wings, causing Shadowblade to go flying off*



Shadowblade: Auuugh!!



Alien Wily: Idiot! Now we have to get him!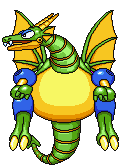 Dragon: Heh heh... whoops?

*Meanwhile*



Shadowblade: *Slamming through the wall of the WW's "base"* Ow... what a lousy flight. No movie, no cute flight attendants... *shakes head* Now, let's see, I luckily landed in Ben's room, now to find the rings...

*Outside*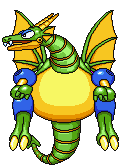 Dragon: I think he landed somewhere around here...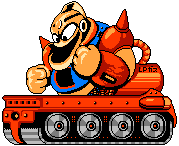 Gutsdozer: Kkkkrush!



Alien Wily: Yes yes, we get it, you like to crush things! Now do you still have all the Wily's Warriors in your trunk?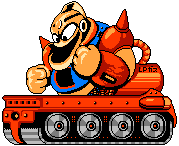 Gutsdozer: *saluting* Yes sah!



Alien Wily: Good... That foolish Bubble Man won't dare attack us while we hold his fr- OW! *Gets pelted with a Lead Bubble*



Shadowblade: Do you ever do anything other than talking?!



Alien Wily: Ah, there you are... and yes, I do, as I'm about to show you! *fires off a hypnotic beam at Shadowblade, but it bounces off harmlessly*



Shadowblade: I'll say this for Ben... he certainly knows how to pick his power-ups!



Alien Wily: But how...?



Shadowblade: I'll show you how! Go, Mezmero Beam! *Fires off a hypno beam at Gutsdozer*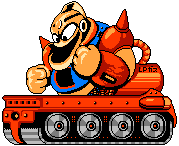 Gutsdozer: Gurrr... Kkkkrush...



Alien Wily: Hah! You pathetic ring can't hypnotize Guts-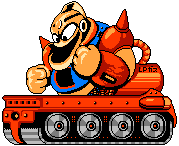 Gutsdozer: ..ALIEN WILY! *whaps Alien WIly with one of his gigantic mitts*



Alien Wily: *Flying off* AUUUGH!!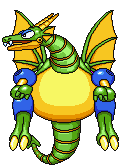 Dragon: A.W.! Don't worry, I'm coming! *flies off*



Shadowblade: ...Wow, that was disappointingly easy. *shrugs* Oh well. *Hops over to Gutsdozer, and opens up his trunk* Well, I guess I should un-hypnotize them... *looks at the base, which is wrecked* Hmmm.... or maybe...

*Later*



Shadowblade: *sipping a drink, relaxing on a foldout lawn chair* Ahhh! This is the life!



Starnik: *Fanning Bubble with a palm leaf* Yes Master Shadowblade...



Shadowblade: Too bad Gutsdozer was only good for "Krushing" things... oh well! *pats a large sack of money* I made a fortune on him at the recycling center!



Pointy: We finished fixing the wall, Ma-...huh? *shakes head* What the... what happened?!



Starnik: *Looking at his fan* And why am I holding a palm leaf?



Shadowblade: Whoops! It looks like Ben's ring-powers lose there effect after awhile...



Ben: *Shouting from inside the house* WHY AM I DRESSED UP AS A MAID?! SHADOWBLAAADE!!



Shadowblade: Gee, now would be a good time to have an "Invisibility Ring" too!

The End